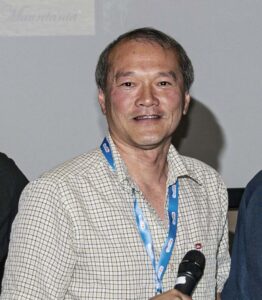 I started keeping fish in 1984 and quickly developed an interest in cichlids. I've kept cichlids from just about anywhere they can be found but particularly liked Central American cichlids.
In 2013 I developed an interest in the cichlids of Lake Victoria after hearing a talk by Greg Steeves, who was a leader in Victorian cichlids in the U.S. I also heard many talks by Paul Loiselle about hobbyists maintaining CARES species. I decided to try a couple of Victorian species, which totally shifted my interest from the New World to the Old World. My interest in Lake Victoria led to satellite lakes around Victoria, then to the crater lakes of Cameroon, and on to other bodies of water where fish are rarely collected. My program is titled Unusual Cichlids From Africa, and covers many cichlid species that I have been able to keep and spawn from across the continent.
Note: My local cichlid club is the New England Cichlid Association. We have hosted the ACA Convention in 2015 and 2019. We have developed friendships and relationships with European collectors who have been instrumental in bringing in many species from across Africa that have never been seen in the US, or haven't been imported for many years.
We will also have our usual meeting activities. You may bring any fish or plants you are submitting for the BAP or HAP for auction. You may also bring up to 3 lots for a Buck-a-Bag auction.We plan to have refreshments and a short business meeting as well.
The address of our Wednesday meeting is 19 Mohawk Drive, Riverside, Rhode Island. Mohawk Drive is directly off of Rt 114, the Wampanoag Trail in Riverside. Route 114 is a divided road at the entrance to Mohawk Road. If you are coming from the North you need to go past it to the next turnaround, which is on the left just past the "Welcome to Barrington" Sign. After you turn around, Mohawk Road will be on your right a short distance past the "Anchor Bay Assisted Living" sign. There is a Blue and White sign at the entry of Mohawk Road for the Riverside Sportsmans Association. The building is at the end of the road.