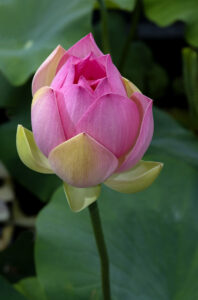 Rick Burt, who will be speaking on water container gardening, with an emphasis on growing lotus and water lilies. "We will also have a discussion on keeping fish in these containers. Lotus tubers, water lilies, and water pickerel (a beautiful water plant that blooms all summer) will be available."
Rick has been keeping fish and growing plants all of his life. He is a former President and Vice-President of TFSRI.
We will also have our usual meeting activities. You may bring any fish or plants you are submitting for the BAP or HAP for auction. You may also bring up to 3 lots for a Buck-a-Bag auction.We plan to have refreshments and a short business meeting as well.
The address of our Wednesday meeting is 19 Mohawk Drive, Riverside, Rhode Island. Mohawk Drive is directly off of Rt 114, the Wampanoag Trail in Riverside. Route 114 is a divided road at the entrance to Mohawk Road. If you are coming from the North you need to go past it to the next turnaround, which is on the left just past the "Welcome to Barrington" Sign. After you turn around, Mohawk Road will be on your right a short distance past the "Anchor Bay Assisted Living" sign. There is a Blue and White sign at the entry of Mohawk Road for the Riverside Sportsmans Association. The building is at the end of the road.